KnowAndBe.live's Participated Diagrams at the 2019 Health Meeting
ANIA Foundation guests KnowAndBe.live Participated Diagrams at the 40th edition of the Rimini Meeting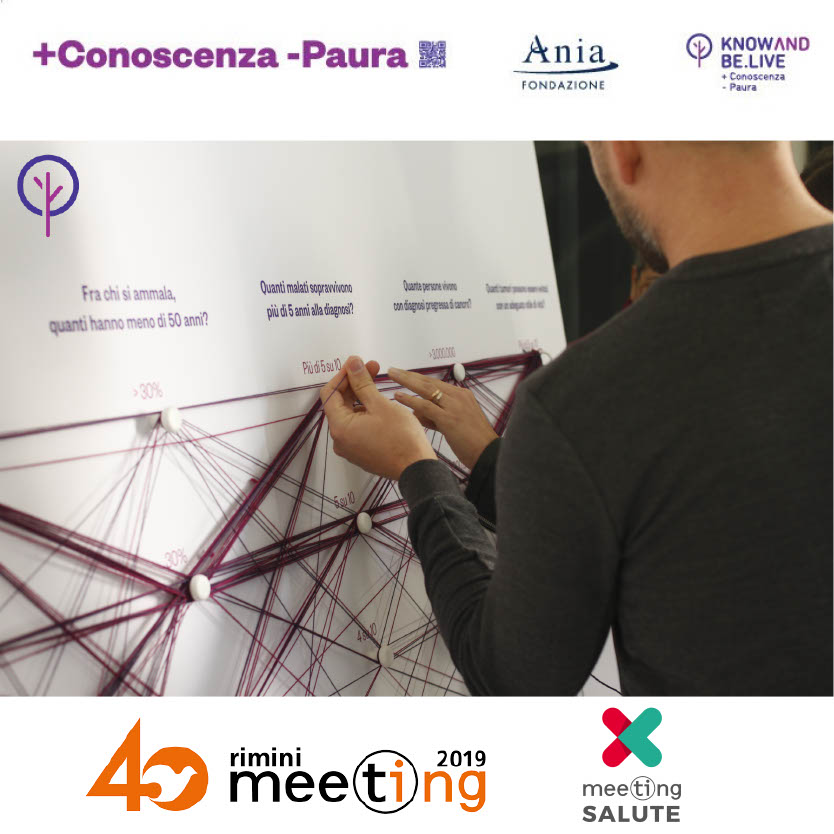 August 13th, 2019
KnowAndBe.live innovation to promote prevention at the Rimini 2019 Meeting, thanks to the ANIA Foundation

«Your name was born from what you set»: this is the title of the 40th edition of the Rimini Meeting which will take place in the Fair of the Romagna capital from 18 to 24 August.

Present for three years in the schedule of the major international cultural festival, the Health Meeting, a place of comparison and dialogue, will be even more protagonist in the 2019 edition with a much wider area of screening and medical consultation compared to what already exists it was last year, when citizens will be able to prevent and meet opinion leaders and doctors of international caliber.

The ANIA Foundation - already a protagonist in past editions dedicated to prevention, protection and safety - will propose in 2019 initiatives aimed at the protection of health, the prevention of diseases and the promotion of correct lifestyles, through different types of free medical visits and corner for the dissemination of information material.

Inside the stand dedicated to the world of insurance, on the days of the event from 10 to 20, for the first time this year visitors will also be able to learn the importance of prevention, thanks to KnowAndBe.live's Participated Diagrams.

Participatory Diagrams were created to inform and train small local communities on cancer numbers and good prevention practices, with a new approach: physical - that is, tangible and perceptible through senses other than sight - and playful.

The physical representation of the data allows people to interact with figures such as the incidence of cancer and survival which, if only read or listened to, are often not fully understood and internalized.

An active, experiential and shared learning methodology that successfully copes with the need to find new languages to significantly expand the culture of prevention and achieve new collective awareness objectives.

Participatory experience is developed through 2 diagrams:

- In the first, the participants answer - by knotting a thread to a series of knobs - at first simple questions, to facilitate their involvement, and then more complex ones, related to the impact of cancer on society. The goal is to verify the degree of information of the participants and make them aware of their information gap, so as to arouse their curiosity about the correct information and guide them to learning.
- The second investigates - through the placement of colored pieces on a panel - the participants' behavior on secondary prevention, or on the controls that allow to diagnose cancer at an early stage.